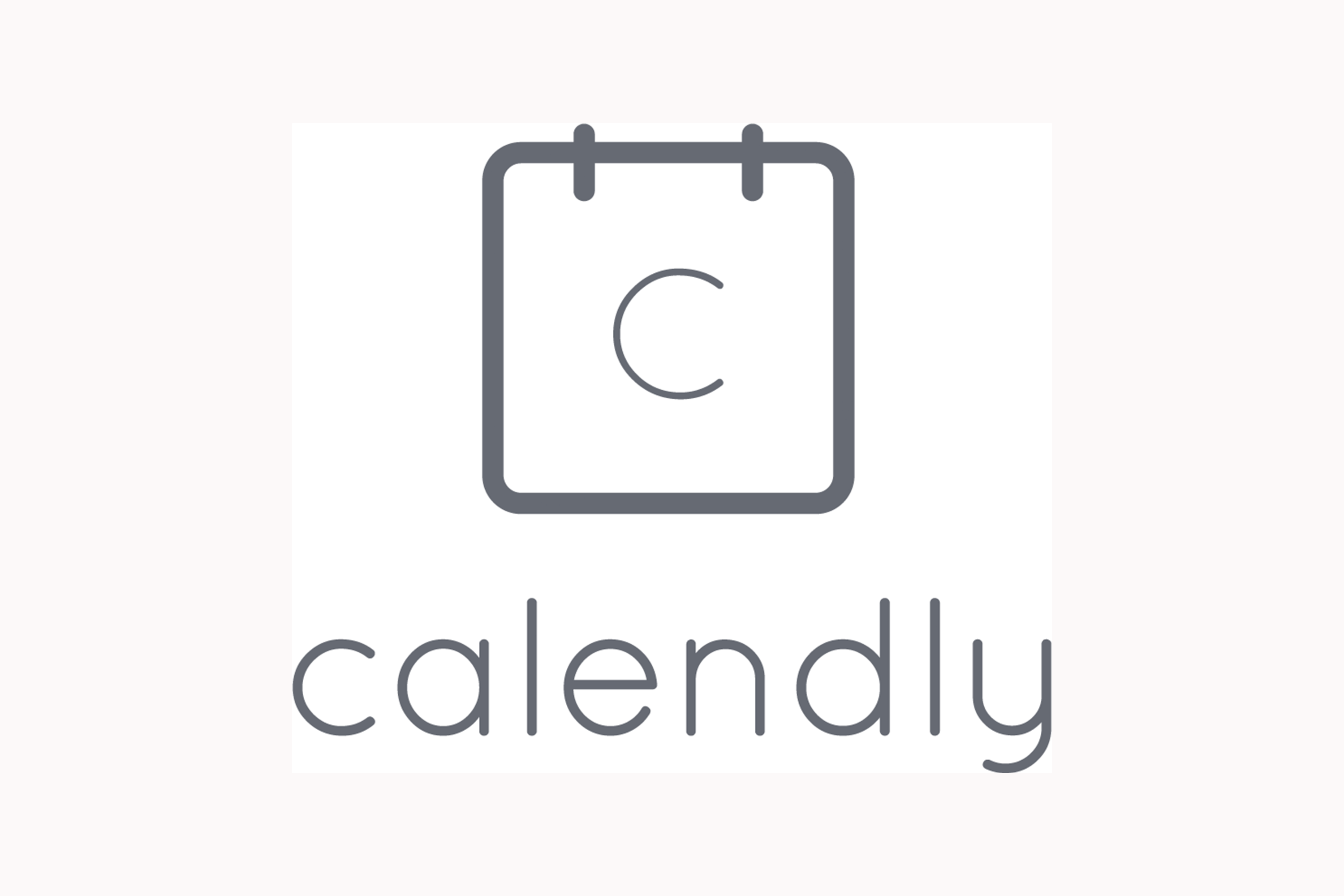 I would like to show you one of my favorite tools. It is called Calendly and it saves me at least one or two hours per week.
This tool is about scheduling meetings. I'm sure you also had trouble with finding a mutually agreeable time with your clients, or co-workers. It's a hassle. You send emails back and fourth, or maybe use a Gmail extension to add options to your emails. Sometimes you end up calling each other, and you're still unable to find the right time.
According to Bloomberg, an average appointment takes five e-mails to schedule. A few years ago Doodle surveyed a sample of 1,500 managers and administrative staff members in Germany, France and the United States.
They were asked about their scheduling habits. It turned out that the vast majority of them were still using old school tools, like the tabletop calendar, or telephone calls to coordinate meetings. On average they wasted nearly five hours per week on this task.
How to get back valuable time and focus on more important tasks?
The constant calls and emails about the appointments are distractive. If you use Calendly, next to saving time, you'll also be able to eliminate most of these distractions, and stay focused. Let me show you how.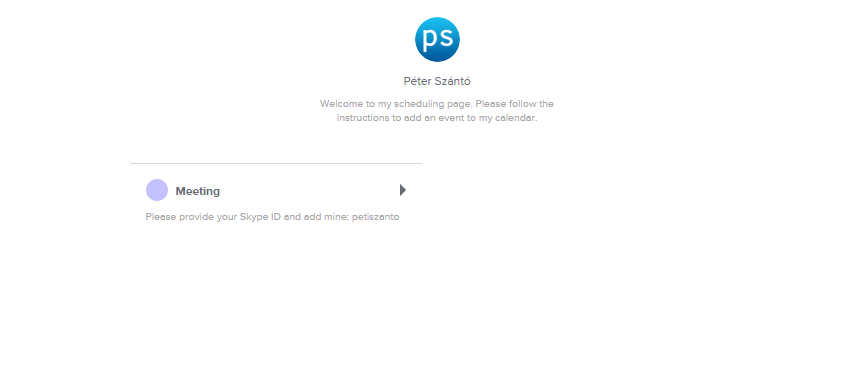 It's pretty easy to create a profile, this is mine. Although I'm using the free version it has a unique URL, which is: https://calendly.com/szanto
Let's say one of my partners or clients calls me and wants to have a meeting. I don't remember anything. Without this app I would have to check my calendar, find an appropriate period and do the things I described above. Now I just send a link and tell my clients to select the time, which is suitable for them.
The link, of course, will take them to my Calenly page, where they can find the dates, which are good for me.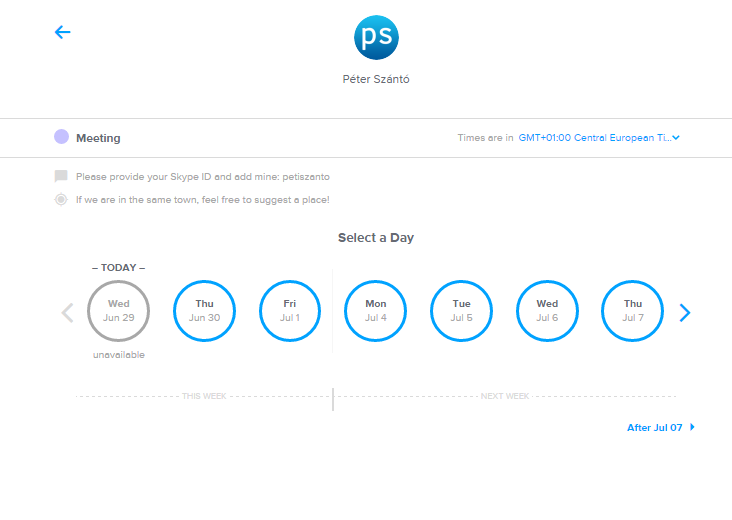 If they click on a date, they will also be able to see, when I am available, on the chosen day.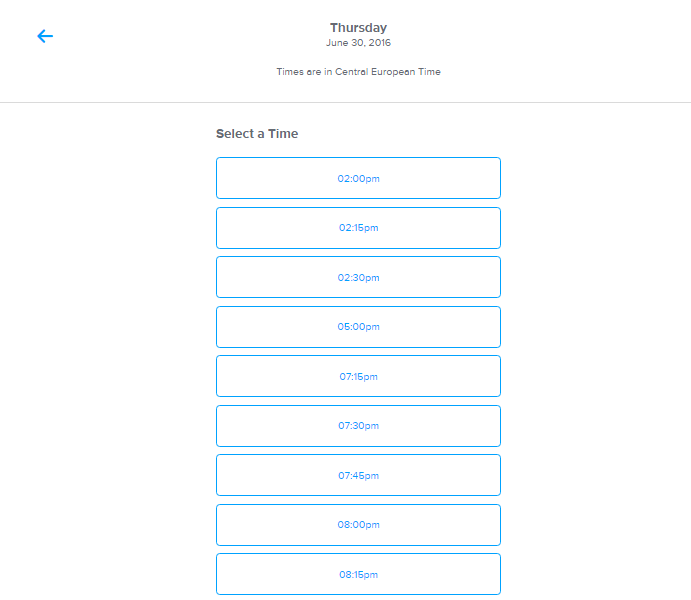 Once they picked the time, all they need to do to schedule a meeting is to enter their name and email address. If you want, you can add any compulsory questions here. For example, I also ask my clients and partners to describe the topic of the meeting briefly, so I can prepare for it.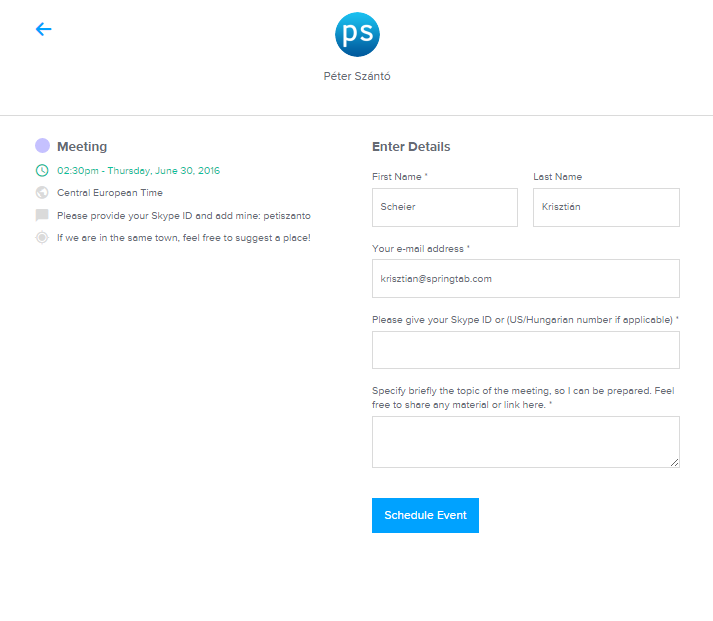 After they schedule an event they can save it into Outlook or their Google Calendar. They can also download a file, wich when clicked on, will automatically add it to iCall and other apps.
I won't need to save the event in my Google Calendar, Calendly will do this job for me. Every detail of the meeting is synced with Google's app, which will notify me about it, just like it does with every other appointment. Calendly will also send a reminder into my inbox while my partners will receive a different one, which allows them to reschedule or cancel the meetings.
Event types in Calendly
From the questions your clients have to answer to different notification types, you can configure many aspects of your events in Calendly. You could also change their appearance and embed them in your website.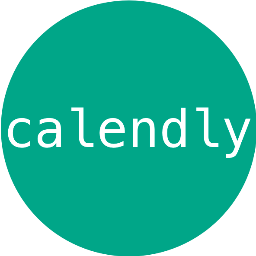 If you subscribe for the app you'll be able to create different event types for the various meetings you have every week, and for example, send different types of invites for your colleagues and clients.
It has a dashboard too, which lists all the booked events, but if you connect the app with Google Calendar, like I did, you won't really need it.
I can only encourage you to start using it, and save valuable time every week.